Last month, thousands of people on the Japanese island of Okinawa protested against the stationing of Yankee troops on Japanese territory. 15 May played a special role in this, as this day marks the end of Yankee imperialism's official rule over Okinawa and its return to the Japanese government in 1972. This year marked the 50th anniversary of the event.
As a result, some 1,000 Okinawans occupied the streets of Ginowan, a town in Okinawa, to protest the presence of US troops on their territory. There are currently around 30,000 American troops stationed at 31 military bases on the island.
The protesters carried signs with slogans against the US and demanded that the Yankees leave the island. "Military bases are tools to kill people," one demonstrator told CGTN. The demonstration took place a few days before Joe Biden's visit to the Asian continent. This visit by the US president was firmly rejected with protests by the Japanese and South Korean masses.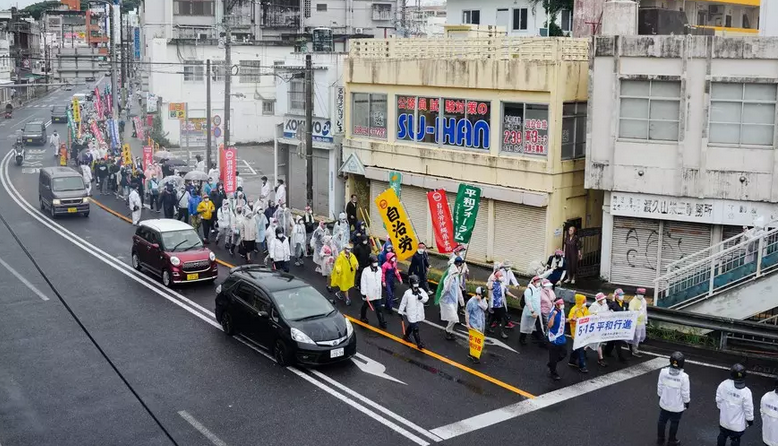 The island of Okinawa is historically part of Japanese territory. At the end of World War II in 1945, the US plundered the island and retained control of the territory until 15 May 1972, when it "returned" it to Japan. Although a formal handover took place, the Yanks never withdrew their troops from Okinawa.
Since the Yankee occupation in World War II, US troops have unleashed a veritable terror against the people of Okinawa to this day. In 1995, massive mobilisations occurred on the island after the case of the rape of a 12-year-old girl by three Yankee soldiers became public. Between 2015 and 2020, 69 Yankee Marines in Okinawa were convicted of sexual offences against minors, possession and distribution of child sexual abuse images, and attempted sexual assault of minors. All these crimes add up to a list of some 4,700 atrocities committed by US military personnel against the people of Okinawa. The bloodthirsty crimes include rapes, murders, robberies, "accidents" involving vehicles and Yankee weapons that have killed hundreds of Okinawans.