Here we publish a preliminary and unofficial translation of the declaration "¡VIVA EL 40 ANIVERSARIO DE LA GUERRA POPULAR EN EL PERÚ!" by the Front for the Defence of the Fights of the People from Ecuador.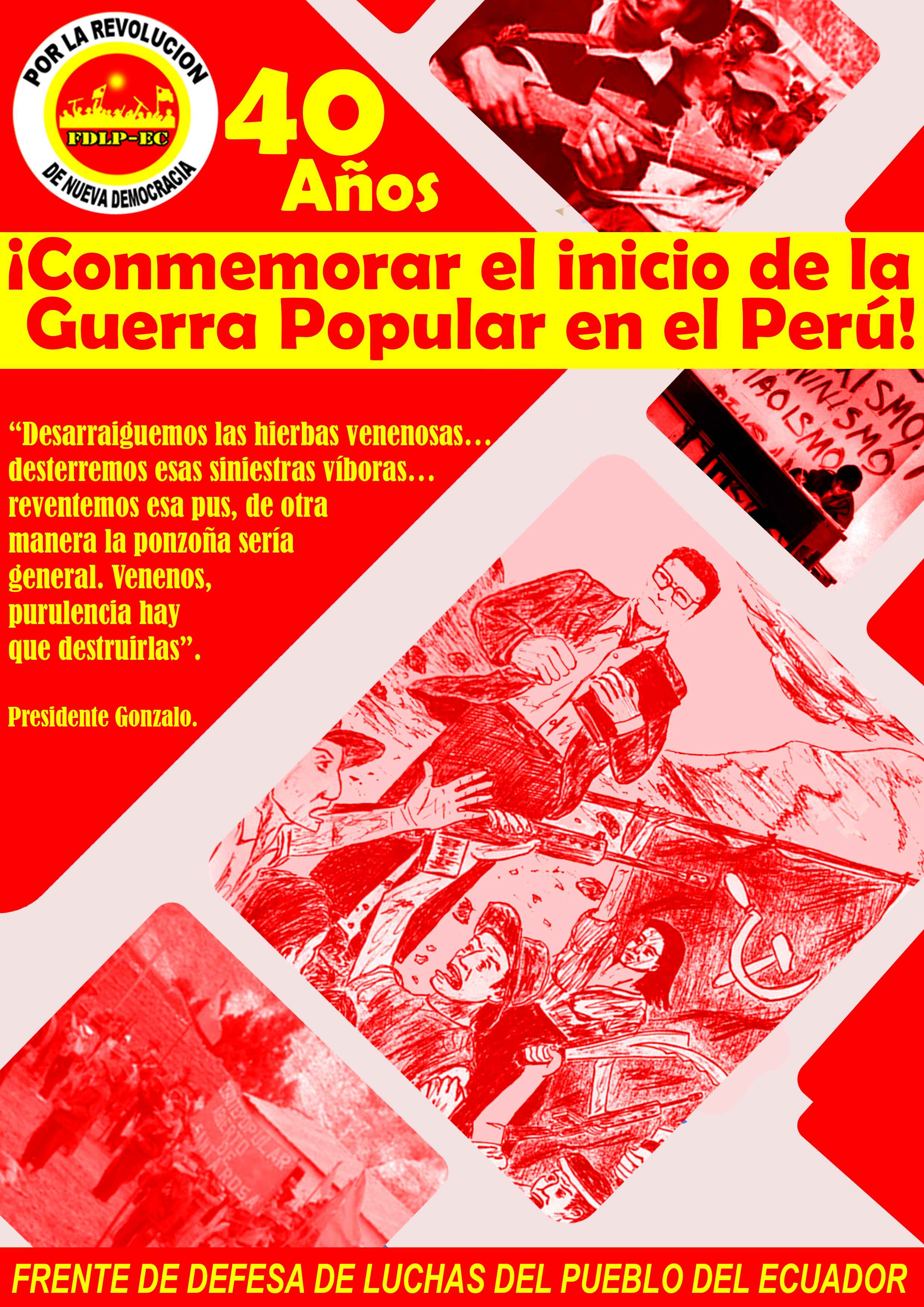 May, 2020
LONG LIVE THE 40TH ANNIVERSARY OF THE PEOPLE'S WAR IN PERU!
The international proletariat, the poor peasants and other oppressed and exploited masses of Peru and the world commemorate the 40th anniversary of the ILA, the beginning of the armed struggle in Peru.
After the triumph of the Cultural Revolution in China, the People's War in Peru became one of the most important milestones of the international proletariat and determined the definition of Marxism-Leninism-Maoism, mainly Maoism as the third and highest stage of Marxism-Leninism and the necessary and relentless struggle against revisionism.
But the initiation of the people's war in Peru also marks the development and application of the Gonzalo thoughts, whose contributions with universal validity have become the theoretical and practical basis for communists who really serve the world proletarian revolution.
Dog dreams have those who claim that the people' s war in Peru has been defeated. It is still developing under difficult conditions, but not only that, it continues to be a flare, a guide that has encouraged the efforts and hard work of the world communists to unleash a people's war in each of their countries, always in the service of the international proletariat.
LONG LIVE THE 40TH ANNIVERSARY OF THE LAUNCHING OF THE ARMED STRUGGLE IN PERU!
LONG LIVE THE PEOPLE'S WAR IN PERU!
LONG LIVE THE POPULAR WAR IN INDIA, THE PHILIPPINES AND TURKEY!
LONG LIVE CHAIRMAN GONZALO!
LONG LIVE GONZALO THINKING!