We are publishing an unofficial and preliminary translation of the statement by the Ecuadorian comrades of the Frente de Defensa de Luchas del Pueblo (FDLP-EC) - Front of Defence of the People's Struggles that was sent to us.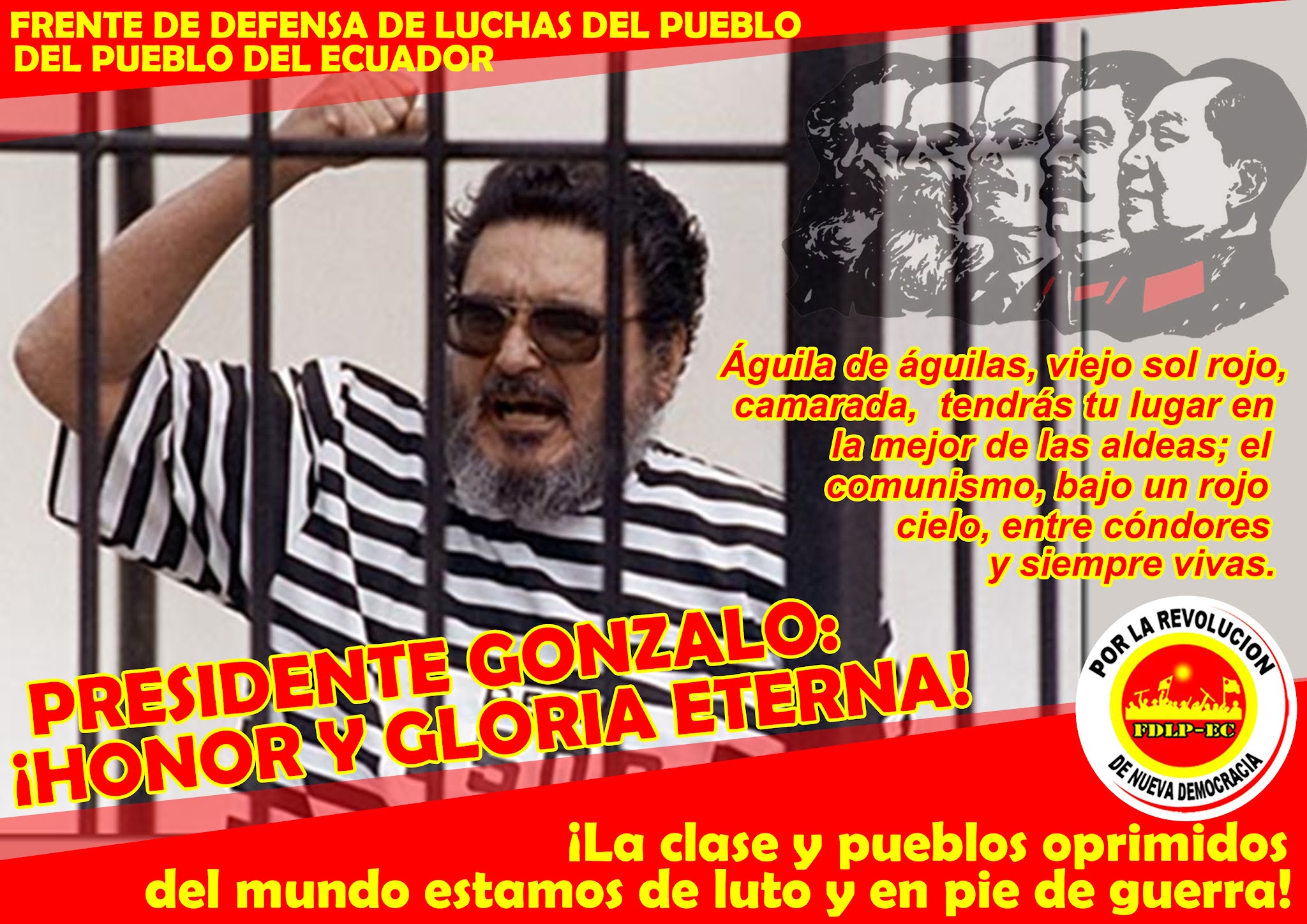 Eagle of eagles, old red sun, comrade, you will have your place in the best of villages; communism, under a red sky, among condors and always alive.
The oppressed class and peoples of the world are in mourning and being at daggers drawn!
In the present circumstances it is difficult to pronounce, the leader of the Party and of the revolution in Peru has died, the greatest living communist in the world until yesterday has died, the new sword of Marxism-Leninism-Maoism has died physically.
We are left with his memory, his bravery, his coherence and intelligence, his contributions to Marxism-Leninism-Maoism which are of universal validity; we are left with his rebelliousness and indomitable conviction to struggle tirelessly to conquer the red sun of liberation; we are left with the firm commitment not to lower flags until we conquer the final goal of all communists: communism.
We are also left with the deep class hatred of all those who harmed him, those who viciously perverted him with daily torture for 29 years; with that deep class hatred against those who attacked him, against those who tried to debase his thinking, his leadership for proterious capitulationist ends (Modavef);
Chairman Gonzalo, master of masters, great among the great, eagle of the Party, has died; the proletariat and the oppressed peoples of the world have physically lost the best of their exponents.
Beloved Chairman Gonzalo, in every drop shed, in every combat, in every victory, you will be present!
ETERNAL HONOUR AND GLORY TO PRESIDENT GONZALO!
LONG LIVE THE COMMUNIST PARTY OF PERU!
LONG LIVE THE PEOPLE'S WAR IN PERU!
LONG LIVE MARXISM-LENINISM-MAOISM-GONZALO THOUGHT!
12th of September 2021