Never before has a Women's Football World Cup attracted so much attention as the current one in Australia and New Zealand. The first tournament with 32 national teams is well on its way to becoming the sporting event of the year in Germany; already last year, the European Championship final of the DFB women against England was the most watched TV event of the year with 18 million viewers. The jerseys are already all sold out, and the DFB team's 6-0 opening victory over Morocco was watched by 5.61 million viewers on TV.
In parallel, supply and demand in girls' football have been increasing for a long time. Compared to last year, there are 20,000 more female footballers registered in clubs in Germany, a total of 845,000. Many school-age girls describe professional footballers as their role models, a fact that would not have existed 15 years ago. The number of spectators is also increasing in the stadiums of the women's Bundesliga.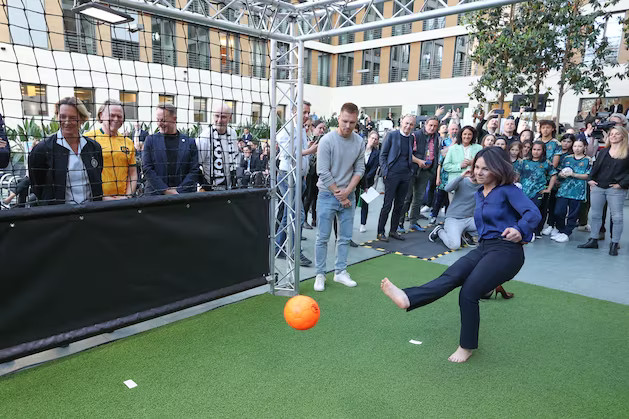 The political importance of the World Cup is underlined, among others, by Annalena Baerbock, who invited to a kick-off event at the Foreign Office at the beginning of May. "For me, it is a symbol of foreign policy. You can only play if everyone plays by the rules", she said there. Besides the allusion to Russian imperialism, the fight for the broadcasting rights for the public broadcasters, which had not yet been settled with FIFA at the time, was the focus there. Whoever wants to enforce the interests of German imperialism with "feminist foreign policy" must also have something to show. To this end, she is fuelling the discussion about better pay in women's football. "Equal pay" is the keyword, but it has nothing to do with the demand of proletarian women for equal wages for equal work. Criticism is currently focused on the "too low rewards" for women. For participation in the World Cup, a female footballer gets a measly 30,000 euros, and if she wins the title, only a quarter of a million; the men could have won 400,000 euros last year in Qatar. These are the problems that bourgeois feminism is concerned with.
The premium demand is now to be supported by a study by researchers from Zurich and Stavanger, in which 600 test persons were placed in front of video clips of Champions League matches of women and men that were considered to be of "high quality" and asked to rate them - once with normal, once with pixelated video excerpts. The result was that the men's football was only perceived as better in terms of play when it was unpixellated, but when the sex was not known, the match scenes were perceived as being of equal value. Exactly what game scenes the study used cannot be traced - but to people with even a little knowledge of football it will be difficult to explain that an "equivalence" exists. Patriarchy does not cease to exist in sport. If the woman is made responsible for reproduction for millennia and the man has the bigger role in social production for it, he can both participate in more social activities and make the faster physical development.
This is especially proven in sports like athletics, where athletic performance can be measured fairly directly in physical terms. Bourgeois feminism reduces the oppression of women to a few outstanding reforms that need to be made; the existence of patriarchy is negated, as here.
The women that many young girls now see as role models and also as examples of women's emancipation actually represent bourgeois patriarchal ideas to a large extent. In the run-up to the World Cup, various formats, including the fashion magazine Vogue, shot several short documentaries or portraits of individual female DFB players in which they pose like models; for other players like Laura Freigang, this is part of everyday life anyway. On the pitch, meanwhile, personal emotionality is of the utmost importance; time and again in professional women's football there is crying and nagging about personal mistakes and defeats. This problem is not confronted with revolutionary violence and spreads accordingly. The great promises of German imperialism to women merely spring from the demands of bourgeois feminists who aim at their own advantage and are deeply imbued with patriarchy itself. For the women of our class, the female professional footballers can in no way be any kind of role model.