On occasion of the 200th anniversary of the birthday of Friedrich Engels proletarian revolutionaries hoisted 200 flags with Hammer and Sickle in the night to Saturday throughout Wuppertal. In the evening, revolutionaries participated in a demonstration on occasion of this anniversary. When the police attacked the manifestation in order to take and identify participants this was prevented by a determined intervention and those attacked were freed.
To celebrate the 200th Birthday of Engels with appropriately a flag hoisting action with 200 flags was carried out in the night from November 27 to 28. Particularly in Wuppertal-Barmen, where Engels was born and the demonstration on occasion of this 200th anniversary was to take place, were hoisted. Furthermore also at the house he lived in as well as on various points of interest in the city and in the proletarian neighborhoods flags with Hammer and Sickle could be found gleaming in the Saturday morning sun.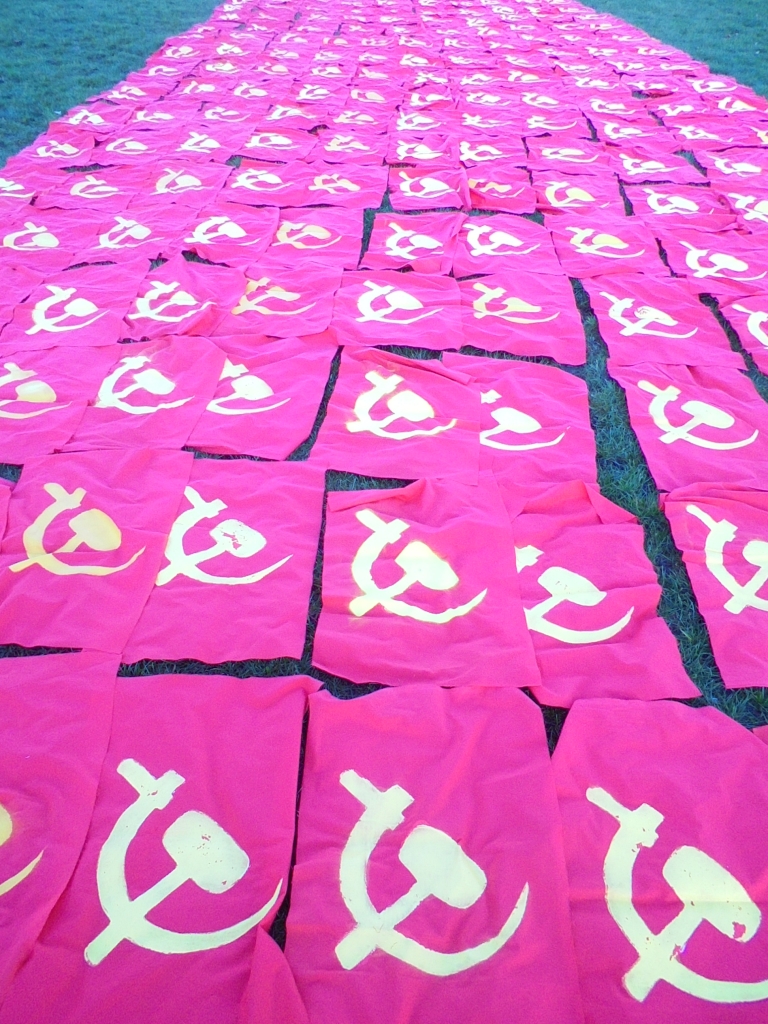 At 15 o' clock the opening manifestation of the demonstration for his commemoration took place to which a broad alliance hand called for. From the beginning, cops present there harassed the participants under the pretext of flag poles being to thick or to long or that Corona-Distancing was violated. While more and more people were coming to participate, the police prevented the manifestation to spread to the streets and so prevented that a Corona-Distance of 1,5m was to be kept – at the same time arguing that they would not allow the demonstration to start, unless this very distance is being kept. While "Querdenker"-Demonstrations throughout the country are marching without minimum distancing, masks and adhering to security concepts without being attacked by the police, the police on that day took every excuse in order to harass and boss around the participants of the manifestation since the very beginning.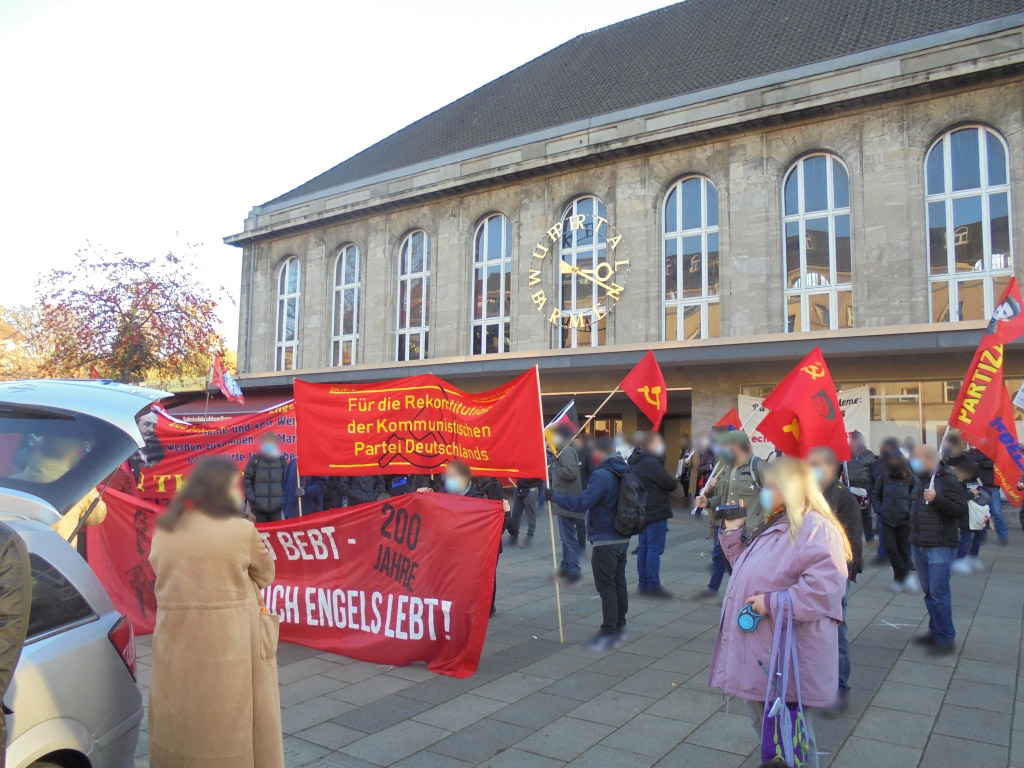 Heated-up by this harassment and stall technique of the cops, that would not allow the demonstration to march, the police got a bloody nose when they attempted, for no reason whatsoever, two exfiltrate two participates from the manifestation for identification measures. While half a dozen of cops, who obviously did not anticipate this forceful a response, were laying on the ground with vasts parts of the manifestation closing in around them under shouts of "Long live international solidarity" those attacked could be freed. Also another attempt of conduct an identification check was prevented, when the police was faced with a group of determined revolutionaries and decided, to rather not conduct any more identification checks right then. Even though the police called massive reinforcements in the end, particularly considering the size of the demonstration, the manifestation ended with the joint singing of The Internationale at the statue of Friedrich Engels and the participants went away together.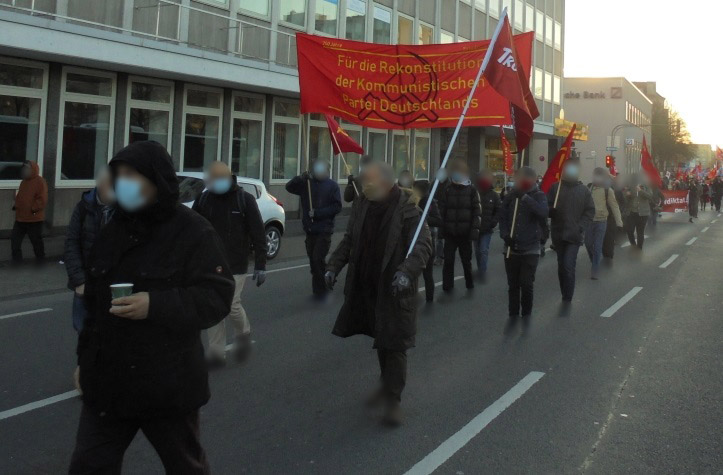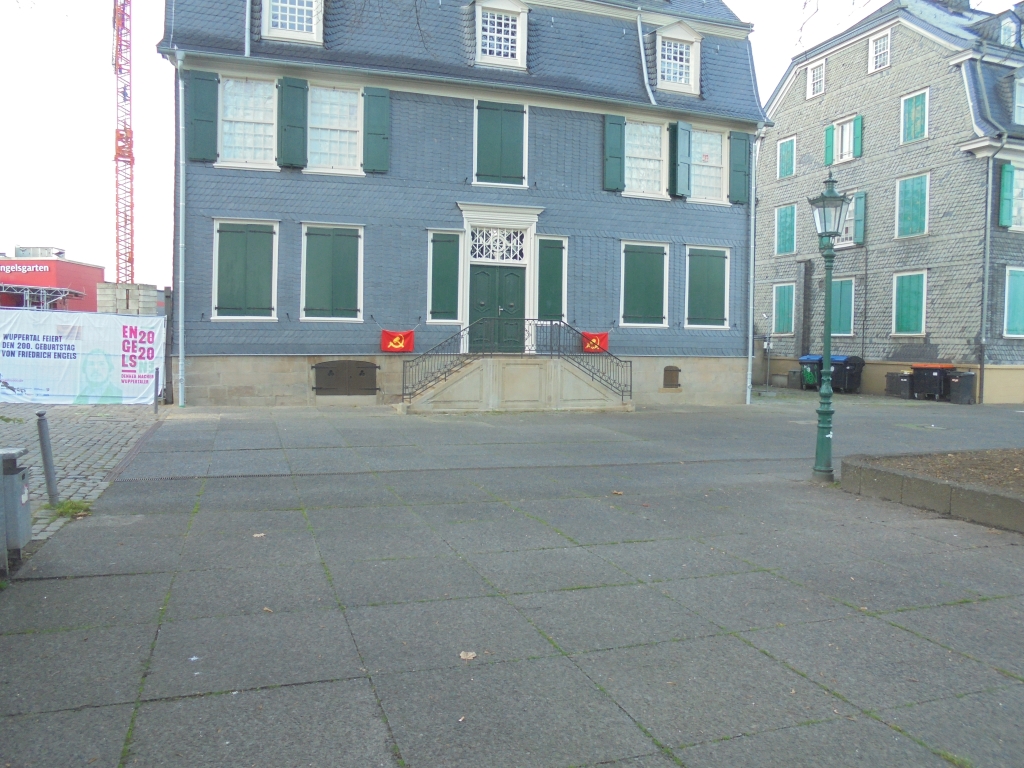 "Engelshaus"