The unmasking events surrounding the right-wing extremist Neukölln attack series go into the next round. Those involved are a courageous cab driver, the pigs from the police station and again and again Tilo Paulenz, who was most recently a member of the AFD.
In connection with the long series of attacks in the Neukölln-Britz area, the name Tilo Paulenz came up early on. With great delay, only when the overwhelming burden of proof was already public, the Berlin judiciary took him into custody in 2020 as a prime suspect. But even then he could again count on the comradely goodwill of the authorities. Despite his numerous previous convictions, he was released under reporting requirements.
In early November, the fascist attacked a migrant cab driver with a telescopic baton. Particularly scandalous is that the cops are again said not to have lifted a finger to clear up this racist attack: "The cab driver is said to have then tried to file a complaint at police station 42 - in vain." Thereupon, the cab driver drove himself back to the scene to confront Paulenz. Since he was still there, he called 911 and pursued the fascist who was now fleeing in his passenger car. At a traffic light, he and an accomplice stopped the stubborn cab driver and tried to pull him out of his car while repeatedly hitting his head. Paulenz was arrested based on the license plate number only two days later. Thus, the case is another in the long list of right-wing terror, the clarification of which is actively prevented by the cops. Against the fascists we can only protect ourselves!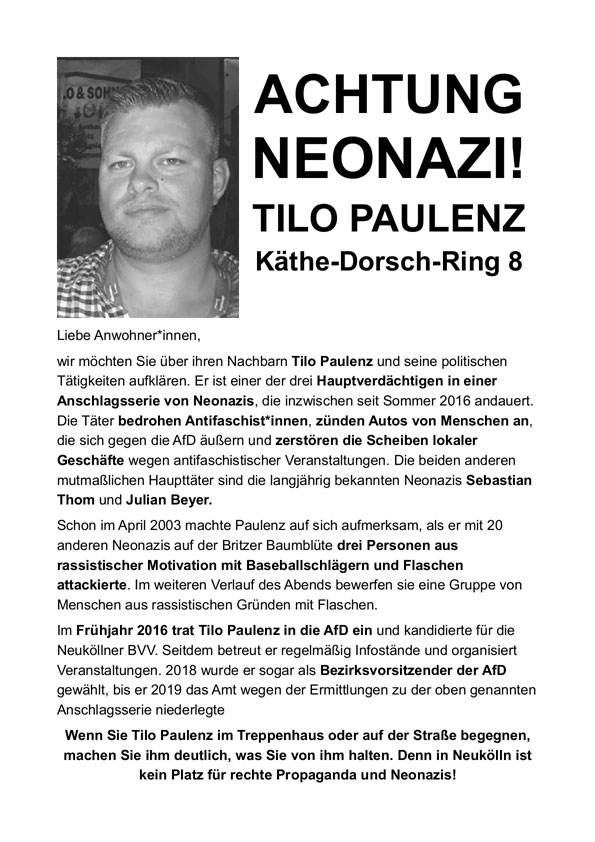 antifascist outing of Paulenz from 2020