DEM VOLKE DIENEN
Dokumente
Details

Category: Dokumente
Proletarer i alle lande, forén jer!
Resolution om klassesolidaritet med Folkekrigene i hele verden
III. Møde mellem Marxistisk-Leninistisk-Maoistiske Partier og Organisationer i Europa

Det III. Mødes Partier og Organisationer sender deres varmeste kommunistiske hilsener til de Kommunistiske Partier i verden, der fører Folkekrig for den Nydemokratiske Revolution i sine respektive lande og til tjeneste for den Proletariske Verdensrevolution, såvel som til alle kæmperne og masserne under lederes ledelse. I Folkekrigene i Peru, Indien, Tyrkiet og på Filippinerne, vovende at kæmpe og betalende prisen med deres dyrebare blod, står kammeraterne i kampens hede for at bortfeje imperialismen fra verdens ansigt. Deres uafværgelige beslutsomhed for at opnå, med princippet og klassekampens mest fremskredne form: Folkekrigen, den nydemokratiske revolution, at gå fremad uden afbrydelse til den socialistiske revolution, for således at marchere fremad til kommunismen gennem kulturrevolutioner, er et lysende fyrtårn for det internationale proletariat og verdens folkeslag.
Midt i yderligere legemliggørelse af marxismen-leninismen-maoismen blandt det internationale proletariat og fremkomsten af nye organisationer og partier, der legemliggøres som dele af den nye store bølge af den Proletariske Verdensrevolution, spiller de Kommunistiske Partier, der fører Folkekrigen, en vigtig fortropsrolle, især de i de undertrykte nationer, som er den Proletariske Verdensrevolutions stormcentre. En sejr i en hvilken som helst af disse Folkekrige vil vippe vægten endnu yderligere til gavn for revolutionen og vil have store indvirkninger på vægtforskellen mellem revolutionen og kontra-revolutionen på verdensplan.
Lad os fejre hver aktion, hvert skridt fremad til den Nye Magt og hvert slag mod reaktionen; hver faldne kammerat fylder os med endnu mere beslutsomhed for at arbejde og kæmpe hårdere for at fæstne imperialismens undergang. Fra Europa sværger vi at højne vore anstrengelser for at understøtte dem på en hvilken som helst nødvendig måde, så Folkekrigene kan sejre, og at genfordoble vore anstrengelser for at muliggøre udviklingen af Folkekrige i hvert evig eneste land.
Leve Folkekrigene i verden!
November 2018

Underskrifter:
Frankrigs Maoistiske Kommunistiske Parti
Tjen Folket - Kommunistisk Forbund, Norge
Røde Fane Kollektiv, Finland
Komiteer for Grundlæggelsen af det (Maoistiske) Kommunistiske Parti, Østrig
Komite Røde Fane - BRD
Tyrkiets Kommunistiske Parti/marxister-leninister
Perus Folkebevægelses (Omorganiseringskomité)
Details

Category: Dokumente
Proletarians of all countries, unite!
Resolution on the III. Meeting of Marxist-Leninist-Maoist Parties and Organisations in Europe
III. Meeting of Marxist-Leninist-Maoist Parties and Organizations in Europe

We, Marxist-Leninist-Maoist Parties and Organisations held our III. Meeting, continuing on the trajectory of the I. and II. Meeting, brought to live through the initiative of the V. Meeting of Marxist-Leninist-Maoist Parties and Organisations in Latin America. The successful conclusion of the III. Meeting marks another hallmark in the ongoing process of uniting in theoretical debate and joint action. On the basis of Marxism-Leninism-Maoism, principally Maoism, and in our ongoing struggle for ideological unity today, always implacably linked with the struggle against revisionism, we will increase our efforts in serving the Proletarian World Revolution.
Based on these principles the unity among the participating Parties and Organisations was deepened and we are committed to struggle to include all Parties and Organisations of the continent willing to unity with us on them. We send our particular greetings to the Parties and Organisations from other countries, who were, although invited, unable to participate due to particular problems. We salute the commitments made in their statements and we continue to struggle to include them as well as other communist forces, from all parts of the continent, in our joint efforts.
We also send our wholeheartedly greetings to the Marxist-Leninist-Maoist Parties and Organisations in the storm centers of the Proletarian World Revolution in the oppressed countries and especially those in the forefront of the struggles. The People's Wars in Peru, India, Turkey and the Philippines are a beacon of inspiration and strengthen our revolutionary determination. Our position is clear and everyone should know that we understand these People's Wars as our own struggles and therefore we utterly reject any attack on them as an attack on the very core of our revolutionary commitment and we reject any liquidation of armed struggle and any capitulationist position of "Peace Accords" or other collaboration with imperialism, revisionism and reaction. In the case of the People's War of Turkey, due to some recent sinister events, we consider it necessary to highlight, that it is a basic principle for any communist, revolutionary and even revolutionarist Party, Organization, Movement or individual that under no circumstance you can collaborate with the old state, be it in imperialist or landlord-bureaucratic capitalist countries, in order to attack forces inside the ranks of the popular masses. To do so is a crime, and therefore we strongly condemn those how have denounced our Turkish comrades to the Police and other officials of the state and we demand an immediate withdrawal of these charges. We firmly stand behind the struggle of the revolutionary forces in Turkey.
We very clearly see how the communist in the world are advancing boldly and quickly, may it be the Parties leading People's War or those who are struggling to constitute or reconstitute their Parties in order to initiate People's War. Maoism is more and more advancing in leading the new great wave of the Proletarian World Revolution. There is a crying need to further impulse and develop the ongoing efforts to unite the communist of the world. We firmly take up the task to struggle for the Unified International Maoist Conference and commit ourselves to do everything in our power to contribute to its success.
Unite under Maoism!
Victory to the People's Wars!
Forwards in the struggle for the reconstitution of the Communist Parties!
Forwards to the Unified International Maoist Conference!
November 2018

Signatories:
Maoist Communist Party of France
Tjen Folket – Communist League, Norway
Red Flag Collective, Finland
Committees for the Founding of the (Maoist) Communist Party, Austria
Committee Red Flag – FRG
Communist Party of Turkey/Marxist-Leninist
Peru People's Movement (Reorganisation Committee)
Details

Category: Dokumente
Proletarians of all countries, unite!
Resolution to defend the revolutionary political prisoners and prisoners of war and those disappeared by the reaction
III. Meeting of Marxist-Leninist-Maoist Parties and Organizations in Europe

We, the Parties and Organisations participating in the III. Meeting of Marxist-Leninist-Maoist Parties and Organisations firmly take position for the revolutionary political prisoners and prisoners of war throughout the world and send our warmest revolutionary greetings to them. Them holding high the position of our class, their the determination to not succumb to rotten betrayals and their unconciliable stance in the struggles that brought them into the sights of the enemy are a true inspiration for the revolutionaries of the world.
Those combating imperialism on the side of the exploited and oppressed necessarily become targets for persecution by the counterrevolutionary forces. By any means possible, the reaction attempts to subdue all forms of revolutionary struggle. Through imprisonment, forced disappearances, torture, threats or the denial of basic rights, the reaction strives to break or kill the revolutionaries and lock them away in their prisons.
All over the world, we can see examples of comrades wagering their freedom and health to combat exploitation and oppression. In Norway as well as in France, we see how young antifascists are being hunted and persecuted for their unrelenting struggle against fascism. In the United States, emerging revolutionaries are being covered within a plethora of charges, for the state hopes to discourage them to advance further in firm strides. In Mexico, false and political motivated accusations are manufactured to lock away popular leaders and activists, who dedicated their live to serving the people, such as Dr. Ernesto Sernas García, vanish without a trace from one moment to the next, through the common state practice of forced disappearances. In the famous case of the 23 in Brazil the state strives, with trumped up charges, to make an example out of 23 young demonstrators, activists and revolutionaries that stand accused for the whole rebellious and combative youth, that combats the hardships imposed on the Brazilian people in service of imperialism. Defending the revolutionary comrades attacked by the reaction, we also want to express our disgust towards all those who use the "solidarity", especially with the 23, to spread confusion in the International Communist Movement and the People's Movement in order to mask their own capitulation. The Turkish government, notorious for its massacres of imprisoned revolutionaries, in collaboration with the German state, goes as far as to hunt down and persecutes democratic and revolutionary activists even abroad, as the imprisonment of the ten revolutionaries in 2015 has yet again shown. In the Philippines, the rotten old State uses martial law to illegally detain and kill democratic rights activists and revolutionary leaders of the Lumad indigenous people. The case of Indian Prof. GN Saibaba is synonymous with the crimes committed by the reaction to all those imprisoned the cells for the democratic work in this prison house of people. Communist militants like comrade Ajith are hunted down and, if left alive, locked away in a farce of a justice system, where after one sentence has been served, immediately new cases are slapped on those released, so to prevent them to ever leave prison until their forceably accumulated illnesses make them die in a heavily guarded hospital bed.
And although the state, with all its strength, tries to break and struck a bargain with these revolutionaries and comrades they stand firm for their believes and not succumb to deals with the institutions of the state. The most shining example of this heroic position can be seen at the Naval Base of Callao, where Chairman Gonzalo, leader of the Communist Party of Peru, is imprisoned now for more then 20 years, without breaking, but instead persisting in isolation to convert his high-security cell below ground in the most shining trench of combat.
There struggle outside and inside the prisons of the reaction is not in vain, but manifests and reverberates in the midst of our struggles. We consider it our duty to uphold their sacrifices, fight for their release and to defend their lives by defending, popularizing and participating in their just struggles, so they can be welcomed as soon as possible in the arms of their families, friends and comrades and rejoin the ranks of the revolution outside.
November 2018
Signatories:
Maoist Communist Party of France
Tjen Folket – Communist League, Norway
Red Flag Collective, Finland
Committees for the Founding of the (Maoist) Communist Party, Austria
Committee Red Flag – FRG
Communist Party of Turkey/Marxist-Leninist
Peru People's Movement (Reorganisation Committee)
Details

Category: Dokumente
Proletarians of all countries, unite!
Resolution of Class Solidarity with the People's Wars throughout the world
III. Meeting of Marxist-Leninist-Maoist Parties and Organizations in Europe

The Parties and Organizations of the III. Meeting send their warmest communist salutations to the Communist Parties in the world, that are waging People's War for the New Democratic Revolution in their respective countries an and in service of the Proletarian World Revolution, as well as to all the combatants and masses under their leadership. In the People's Wars in Peru, India, Turkey and the Philippines, daring to fight and paying the toll with their precious blood, comrades stand in the thick of the struggle to sweep imperialism from the face of the earth. Their unwavering determination to achieve, with the principle and most developed form of class struggle which is People's War, the new democratic revolution, to progress without interruption to the socialist revolution so to then march towards communism by means of cultural revolutions is a shining beacon for the international proletariat and the peoples of the world.
In the midst of further embodiment of Marxism-Leninism-Maoism among the international proletariat and the rise of new organizations and parties that manifest as part of the new great wave for the Proletarian World Revolution, the Communist Parties leading the People's War play an important vanguard role, especially those in the oppressed nations which are the storm centers of the Proletarian World Revolution. A victory in any of these People's Wars will tip the scale even further in favor of revolution and will have great repercussions in the balance between revolution and counterrevolution on world scale.
Every action, every step towards New Power and every blow against the reaction let us rejoice; every fallen comrade fulfills us with more determination to work and fight harder to fasten the downfall of imperialism. From Europe, we pledge to heighten our efforts to support them in any way necessary for the People's Wars to be victorious and redouble our efforts to facilitate the development of People's Wars in each and every country.
Long live the People's Wars in the World!
November 2018

Signatories:
Maoist Communist Party of France
Tjen Folket – Communist League, Norway
Red Flag Collective, Finland
Committees for the Founding of the (Maoist) Communist Party, Austria
Committee Red Flag – FRG
Communist Party of Turkey/Marxist-Leninist
Peru People's Movement (Reorganisation Committee)
Details

Category: Dokumente
Kaikkien maiden proletaarit, liittykää yhteen!

Päätöslauselma luokkasolidaarisuudesta kansansotien kanssa kautta maailman
Marxilais-leniniläis-maolaisten puolueiden ja järjestöjen III kokous Euroopassa
III kokouksen puolueet ja järjestöt lähettävät lämpimimmät kommunistiset tervehdyksensä niille kommunistisille puolueille maailmassa, jotka kussakin maassa käyvät kansansotaa uuden demokratian vallankumouksen puolesta ja proletaarisen maailmanvallankumouksen palveluksessa, sekä kaikille niiden johtamille taistelijoille ja kansanjoukoille. Kansansodissa Perussa, Intiassa, Turkissa, ja Filippiineillä, uskaltaen taistella ja maksaa uhrin kallisarvoisella verellään, toverit seisovat taistelun tuoksinassa lakaistaakseen imperialismin maan päältä. Heidän horjumaton päättäväisyytensä saavuttaa uuden demokratian vallankumous luokkataistelun periaatteella ja kehittyneimmällä muodolla, joka on kansansota, edistyä keskeytyksettä sosialistiseen vallankumoukseen marssiakseen sitten kohti kommunismia kulttuurivallankumouksien avulla, se on loistava majakka kansainväliselle proletariaatille ja maailman kansoille.
Keskellä marxismi-leninismi-maoismin pidemmälle menevää ruumiillistumista kansainvälisen proletariaatin keskuudessa ja uusien järjestöjen ja puolueiden nousua, jotka ilmentyvät osana proletaarisen maailmanvallankumouksen uutta suurta aaltoa, kansansotaa johtavat kommunistiset puolueet esittävät tärkeää etujoukkoroolia, erityisesti sorretuissa kansakunnissa jotka ovat proletaarisen maailmanvallankumouksen myrskykeskuksia. Voitto missä tahansa näistä kansansodista tulee kallistamaan vaa'an vielä enemmän vallankumouksen hyväksi, ja sillä tulee olemaan suuria jälkivaikutuksia vallankumouksen ja vastavallankumouksen väliseen voimasuhteeseen maailmanmitassa.
Jokainen toimi, jokainen askel kohti uutta valtaa, ja jokainen isku taantumusta vastaan sallii meidän iloita; jokainen kaatunut toveri kasvattaa päättäväisyyttämme työskennellä ja taistella kovemmin imperialismin kukistumisen nopeuttamiseksi. Euroopasta käsin, me vannomme kohottavamme ponnistuksiamme heidän tukemisekseen kaikin tarpeellisin tavoin kansansotien voitokkuuden puolesta ja kiihdytämme ponnistuksiamme kansansotien kehittämiseksi joka ikisessä maassa.

Eläköön kansansodat maailmassa!
Marraskuu 2018

Allekirjoitukset:
Maolainen kommunistinen puolue, Ranska
Tjen Folket – Kommunistinen liitto, Norja
Punalippu-kollektiivi, Suomi
Komiteat (maolaisen) kommunistisen puolueen perustamiseksi, Itävalta
Komitea Punalippu – Saksan liittotasavalta
Perun kansanliike (Uudelleenorganisoiva komitea)
Turkin kommunistinen puolue / marxilais-leniniläinen
Details

Category: Dokumente
Kaikkien maiden proletaarit, liittykää yhteen!

Päätöslauselma koskien marxilais-leniniläis-maolaisten puolueiden ja järjestöjen III kokousta Euroopassa
Marxilais-leniniläis-maolaisten puolueiden ja järjestöjen III kokous Euroopassa
Me, marxilais-leniniläis-maolaiset puolueet ja järjestöt, pidimme III kokouksemme, jatkaen I ja II kokouksen kehityskaarta, jotka tulivat eloon marxilais-leniniläis-maolaisten puolueiden ja järjestöjen V Latinalaisen Amerikan kokouksen aloitteesta. III kokouksen menestyksellinen päätös merkitsee yhden tarkastusleiman lisää teoreettisessa väittelyssä ja yhteistoiminnassa yhtymisen meneillään olevassa prosessissa. Marxismi-leninismi-maoismin, pääasiassa maoismin perustalla, ja tänä päivänä jatkuvassa taistelussamme ideologisen yhtenäisyyden puolesta, aina leppymättömässä sidoksessa taisteluun revisionismia vastaan, me tulemme lisäämään ponnistuksiamme palveluksena proletaariselle maailmanvallankumoukselle.
Näihin periaatteisiin pohjaten, yhtenäisyys osallistuneiden puolueiden ja järjestöjen kesken tuli syvennetyksi, ja me olemme omistautuneita taistelemaan sisällyttääksemme maanosan kaikki kanssamme yhtenäisyyttä tahtovat puolueet ja järjestöt. Lähetämme erityiset tervehdyksemme niille puolueille ja järjestöille muista maista, jotka olivat, vaikkakin kutsuttuina, kykenemättömiä osallistumaan erinäisten ongelmien vuoksi. Tervehdimme niiden lausunnoissa annettuja sitoumuksia, ja jatkamme taistelua sisällyttääksemme heidät samoin kuin muut kommunistiset voimat maanosan kaikista osista yhteisiin ponnituksiimme.
Lähetämme myöskin koko sydämistämme tervehdykset marxilais-leniniläis-maolaisille puolueille ja järjestöille proletaarisen maailmanvallankumouksen myrskykeskuksiin sorretuissa maissa ja erityisesti taistelujen eturintamassa oleville. Kansansodat Perussa, Intiassa, Turkissa, ja Filippiineillä ovat innoituksen majakka ja vahvistavat vallankumouksellista päättäväisyyttämme. Kantamme on selvä, ja kaikkien tulisi tietää että me käsitämme nämä kansansodat omina taisteluinamme ja siten me torjumme kerta kaikkiaan mitkä tahansa hyökkäykset niitä vastaan hyökkäyksinä itse vallankumouksellisen sitoumuksemme ydintä vastaan, ja me torjumme minkä tahansa aseellisen taistelun likvidoinnin ja minkä tahansa "rauhansopimuksen" antautumiskannan, tai muun yhteistoiminnan imperialismin, revisionismin, ja taantumuksen kanssa. Turkin kansansodan tapauksessa, johtuen eräistä viimeaikaisista synkistä tapahtumista, me katsomme tarpeelliseksi korostaa että kenen tahansa kommunistin, vallankumouksellisen, tai vaikka vain vallankumousmielisen puolueen, järjestön, liikkeen, tai yksilön perusperiaatteena on, että et voi missään olosuhteessa tehdä yhteistoimintaa vanhan valtion kanssa, oli se sitten imperialistisissa tai tilanherra-byrokraattikapitalistisissa maissa, jotta se voisi hyökätä kansanjoukkojen rivistöjen sisäisten voimien kimppuun. Niin tekeminen on rikos, ja siksi me tuomitsemme vahvasti ne, jotka ovat tuominneet turkkilaisia tovereitamme poliisille ja muille valtion viranomaisille, ja me vaadimme näiden syytteiden välitöntä perumista. Seisomme lujasti vallankumouksellisten voimien taistelun takana Turkissa.
Näemme erittäin selvästi, kuinka kommunistit maailmalla ovat etenemässä rohkeasti ja nopeasti, oli kyse sitten kansansotaa johtavista puolueista tai niistä, jotka vielä taistelevat puolueidensa rakentamiseksi tai jälleenrakentamiseksi kansansodan aloittamiseksi. Maoismi etenee yhä enemmän proletaarisen maailmanvallankumouksen uuden suuren aallon johtamisessa. On huutava tarve lisäsysäyksen antamiseksi ponnisteluille ja niiden kehittämiselle maailman kommunistien yhdistämiseksi. Tartumme lujasti tehtävään taistella Yhdistyneen kansainvälisen maolaisen konferenssin puolesta ja sitoudumme tekemään kaiken voitavamme edesauttaaksemme sen menestystä.
Yhdistykää maoismin alle!
Voitto kansansodille!
Eespäin taistelussa kommunististen puolueiden jälleenrakentamiseksi!
Eespäin Yhdistyneeseen kansainväliseen maolaiseen konferenssiin!
Marraskuu 2018

Allekirjoitukset:
Maolainen kommunistinen puolue, Ranska
Tjen Folket – Kommunistinen liitto, Norja
Punalippu-kollektiivi, Suomi
Komiteat (maolaisen) kommunistisen puolueen perustamiseksi, Itävalta
Komitea Punalippu – Saksan liittotasavalta
Perun kansanliike (Uudelleenorganisoiva komitea)
Turkin kommunistinen puolue / marxilais-leniniläinen
Details

Category: Dokumente

Kaikkien maiden proletaarit, liittykää yhteen!
Päätöslauselma vallankumouksellisten poliittisten vankien, sotavankien, sekä taantumuksen kadottamien puolustamiseksi
Marxilais-leniniläis-maolaisten puolueiden ja järjestöjen III kokous Euroopassa
Me, marxilais-leniniläis-maolaisten puolueiden ja järjestöjen III kokoukseen Euroopassa osallistuvat puolueet ja järjestöt, otamme lujasti kannan vallankumouksellisten poliittisten vankien ja sotavankien puolesta kautta maailman, ja lähetämme heille lämpimimmät vallankumoukselliset terveisemme. Heidän kannatellessa luokkamme kantaa korkealla, heidän päättäväisyytensä olla sortumatta mädille petoksille, ja heidän sovittelematon kantansa niissä taisteluissa jotka saattoivat heidät vihollisen tähtäimiin, ovat tosi innoitus maailman vallankumouksellisille.
Riistettyjen ja sorrettujen puolella imperialismia vastaan taistelevista tulee vastavallankumouksellisten voimien vainon kohteita. Taantumus yrittää kaikin mahdollisin keinoin lannistaa vallankumouksellisen taistelun kaikkia muotoja. Vangitsemisilla, väkivalloin kadottamalla, kidutuksella, uhkauksilla, tai perusoikeuksia kieltäen, taantumus pyrkii murtamaan tai surmaamaan vallankumoukselliset ja lukitsemaan heidät pois vankiloihinsa.
Kaikkialla maailmassa näemme esimerkkejä tovereista panemassa likoon vapautensa ja terveytensä kamppaillakseen riistoa ja sortoa vastaan. Niin Norjassa kuin Ranskassakin näemme kuinka nuoria fasisminvastustajia jahdataan ja vainotaan johtuen heidän hellittämättömästä taistelusta fasismia vastaan. Yhdysvalloissa, nousevat vallankumoukselliset saavat päälleen ylettömän määrän syytteitä, sillä valtio toivoo voivansa lannistaa heitä etenemästä pidemmälle varmoin harppauksin. Meksikossa, vääriä ja poliittisesti motivoituneita syytteitä tehtaillaan kansan johtajien panemiseksi telkien taakse, kansan palvelulle elämänsä omistaneita aktivisteja, kuten Tri Ernesto Sernas García, katoaa jälkeä jättämättä yhtenä ja toisena hetkenä valtion tavanomaisessa väkivalloin kadottamisen käytännössä. Kuuluisassa 23:n oikeusjutussa Brasiliassa, valtio pyrkii tekaistuin syyttein tekemään esimerkin 23 nuoresta mielenosoittajasta, aktivistista, ja vallankumouksellisesta, jotka vastaavat syytettyinä koko kapinallisen ja taistelevan nuorison puolesta, joka taistelee Brasilian kansan päälle imperialismin
hyväksi sälytettyjä kärsimyksiä vastaan. Puolustaessamme taantumuksen hyökkäyksen kohteena olevia vallankumouksellisia tovereita, haluamme myöskin ilmaista inhomme kaikkia niitä kohtaan, jotka käyttävät "solidaarisuutta", erityisesti 23:lle, levittääkseen sekaannusta kansainväliseen kommunistiseen liikkeeseen ja kansanliikkeeeseen peittääkseen oman antautumisensa. Vangittujen vallankumouksellisten verilöylyistä pahamaineinen Turkin hallitus, yhteistyössä Saksan valtion kanssa, menee niin pitkälle että jahtaa ja vainoaa demokraattisia ja vallankumouksellisia aktivisteja jopa ulkomailla, kuten kymmenen vallankumouksellisen vangitseminen vuonna 2015 jälleen kerran osoitti. Filippiineillä mätä vanha valtio käyttää sotatilalakia pidättääkseen ja tappaakseen demokraattisia aktivisteja ja lumad-alkuperäiskansan vallankumouksellisia johtajia. Intialaisen professori G. N. Saibaban tapaus on samanmerkityksinen niiden rikosten kanssa, joita taantumus suorittaa kaikkia demokraattisesta työstä tässä kansan vankilassa selleihin sulkemiaan kohtaan. Kommunistisia militantteja, kuten toveri Ajith, jahdataan ja, jos jätetään henkiin, lukitaan pois oikeuslaitoksen farssissa, missä yhden tuomion tullessa suoritetuksi lyödään vapautuville välittömästi uudet, jotta heitä estettäisiin koskaan jättämästä vankilaa kunnes heille väkipakolla kasatut sairaudet johtavat heidät kuolemaan raskaasti vartioidulla sairaalapedillä.
Ja vaikka valtio kaikella voimallaan yrittää murtaa näitä vallankumouksellisia ja tovereita ja hieroa kauppaa heidän kanssaan, he seisovat lujina vakaumuksensa puolesta eivätkä sorru sopimuksiin valtiolaitosten kanssa. Kaikkein loistavin esimerkki tästä sankarillisesta kannasta voidaan nähdä Callaon merivoimien tukikohdassa, missä puheenjohtaja Gonzalo, Perun kommunistisen puolueen johtaja, on nyt ollut yli 20 vuotta vangittuna, murtumattomana, ja sitävastoin jatkaen sinnikkäästi eristyksessä korkean turvallisuustason maanalaisen sellinsä muuttamista kaikkein loistavimmaksi taisteluhaudaksi.
Taistelu taantumuksen vankiloiden ulkopuolella ja sisäpuolella ei ole hyödytöntä, vaan tulee ilmaistuksi ja kajahtaa taistelujemme keskellä. Katsomme velvollisuudeksemme vaalia heidän uhrauksiaan, taistella heidän vapauttamiseksi ja heidän elämänsä puolustamiseksi puolustamalla, kansanomaistamalla, ja osallistumalla heidän oikeutettuihin taisteluihinsa, jotta heidät voitaisiin mahdollisimman pian toivottaa tervetulleiksi perheidensä, ystäviensä, ja toveriensa syleilyyn, liittyäkseen jälleen vallankumouksen rivistöihin ulkopuolella.
Marraskuu 2018

Allekirjoitukset:
Maolainen kommunistinen puolue, Ranska
Tjen Folket – Kommunistinen liitto, Norja
Punalippu-kollektiivi, Suomi
Komiteat (maolaisen) kommunistisen puolueen perustamiseksi, Itävalta
Komitea Punalippu – Saksan liittotasavalta
Perun kansanliike (Uudelleenorganisoiva komitea)
Turkin kommunistinen puolue / marxilais-leniniläinen
Details

Category: International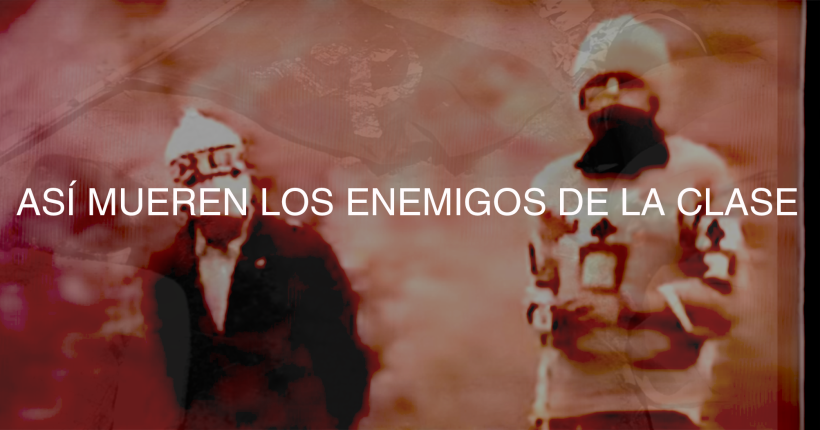 On occassion of the release of the Norwegian translation of the article "Así mueren los enemigos de la clase", that was originally published in English by the comrades from Struggle Sessions on the 11th of July this year, we mirror both articles:
Así mueren los enemigos de la clase
Lucanamarca 1983 and revolutionary violence
"Even quite progressive people said, 'Though terrible, it is inevitable in a revolution.' In short, nobody could altogether deny the word 'terrible.' . . . The fact is that the great peasant masses have risen to fulfil their historic mission and that the forces of rural democracy have risen to overthrow the forces of rural feudalism. The patriarchal-feudal class of local tyrants, evil gentry and lawless landlords has formed the basis of autocratic government for thousands of years and is the cornerstone of imperialism, warlordism and corrupt officialdom."
—Mao Zedong
"It's fine. It is not 'terrible' at all. It is anything but 'terrible.' 'It's terrible!' is obviously a theory for combating the rise of the peasants in the interests of the landlords; it is obviously a theory of the landlord class for preserving the old order of feudalism and obstructing the establishment of the new order of democracy; it is obviously a counterrevolutionary theory. No revolutionary comrade should echo this nonsense. If your revolutionary viewpoint is firmly established and if you have been to the villages and looked around, you will undoubtedly feel thrilled as never before. Countless thousands of the enslaved—the peasants—are striking down the enemies who battened on their flesh."
—Mao Zedong
Anti-Communists persist in horror stories about revolution and socialist State projects of the past, and they do this most effectively when they themselves claim to be Communists. This method has been used over and over, but never more effectively than against the Communist Party of Peru, which was the most practically and ideologically advanced revolution in the period subsequent to capitalist restoration in China. We Communists must defend this revolution as we do the Great Proletarian Cultural Revolution even though it has not taken power yet, just as the GPCR did not prevent restoration. Both offer us a clear and indisputable way forward. Neither are to be considered principally failures but illuminating successes.
The most acute anti-Communism targeting the PCP centers on an event that took place in 1983 in the early years of the Protracted People's War. The reactionary Peruvian State and the world bourgeois media refer to this event as the "Lucanamarca massacre." Lucanamarca is a village in Peru where over 80 people were annihilated according to the Communist Party of Peru (69 according to the State). This has been used again and again to create anti-Communist myths about the PCP and the People's War it led. I feel it's important to divide this matter into two. On one hand, no one denies the Party's involvement in this, least of all its leader, Chairman Gonzalo, who both admits the order came from the Central Committee and admits there were excesses. What we must understand in order not to parrot death tolls the way the enemy always does is the other aspect, which in this question is principal.
The attack ordered by the Central Committee of the PCP was in part retaliation for the murder of one of their cadres, Olegario Curitomay, who was beloved by the peasant masses in the area. Peasant life in the area was oppressive, and many had been disappeared, murdered or raped. Curitomay was stoned, tortured to death, disemboweled, and then put on public display. This injustice called for blood, and the masses demanded it. Lucanamarca was a reactionary stronghold; it was already developing and had already organized a strong right-wing death squad (rondero) that took the form of civilian peasant militias organized by the State. This development was in service to the social base of the landlords and the State itself, organized in fear of the spread of Communism. These death squads committed numerous atrocities against the people; they mobilized the most backward masses and the lumpenproletariat to carry out these fascist attacks like the one against Commander Curitomay. The arms given to the ronderos by the Peruvian government had been provided by both US imperialism and Soviet social-imperialism to assist the comprador bourgeoisie of Peru in suppressing revolution.
In response the PCP sent a firm and clear message that this was a different type of war, a People's War, unlike any of the many violent struggles in Peruvian history. While bourgeois minds panic at death tolls Communists see things as they exist in the context of their time. This warning did not fall on deaf ears. To understand the given context you must understand the way the People's Guerrilla Army (EGP) was organized. While the Central Committee issued orders, operations on the ground were decentralized. The EGP operated in two main ways:
The first way was through the EGP itself, which had armed troops who were assigned guns captured from the enemy. But they composed a relatively small number of mobile bands that operated regionally, sometimes as small as 3 to 6 in a guerrilla military unit. They would move about an area of several villages, carrying out mobile attacks in the hit-and-run sequences of strategic defensive. Keep in mind that this was early still in the People's War, which had only begun in 1980 by unarmed cadres and soldiers snatching weapons off the police and raiding small arm storage sites. In 1983 the Peruvian State was just beginning to realize the might and effectiveness of the PCP, its army, and its New State/Front.
The second way the guerrillas operated was through peasant militias, who were not armed with captured weapons (still in short supply at this point) but with farming tools, dynamite, and other lethal but non-firearm weapons. These forces were numerically much larger than the EGP proper, and their members were recruited up into the EGP. These were not trained soldiers but the peasant masses themselves, composed of the poorest indigenous Andean masses. These were the forces that carried out the operation in Lucanamarca. The PCP was not abandoning the mass line but carrying it out with the direct involvement of the peasant masses.
The masses can be like a tidal wave, and the order from the Central Committee ruptured the dam, liberating the righteous creative wrath of the masses. It is incorrect to suggest to anyone, least of all the tidal wave, that it should just return to the ocean and be still. We must understand the anger of the people, the pain they feel when their beloved community leaders who are of their own blood are treated with State terror and execution. When the masses go "too far" the revisionists will always say "it's terrible" and revolutionaries must always say "it is fine." This was expressed by Mao in his reports on the peasant movement in Hunan during the People's War that he led.
The PCP understood the dialectical relationship between Communists and the masses this way:
"There can be no leaders who are deaf to the clamor of the masses, blind to their strength, harsh or indifferent. This is unacceptable. Nevertheless, what have we seen? Blind, harsh, indifferent and deaf leaders; are they losing their status as Communists? The souls of Communists should tremble like the souls of the masses tremble, should become happy with what brings them joy, be hurt by what hurts them, become impassioned by what impassions them, uplifted by what uplifts the masses. If not, the militant's character becomes a mere formality, an insignia, a rubber stamp, a kind of etiquette."
The events at Lucanamarca were not a question of the masses striking at the wrong time, and the Party standing beside them, but of the Party mobilizing the masses fully to carry out a devastating blow against reaction, one that will never be forgotten. There are of course those people who with a rubber stamp actually switch up who the masses were. They frame the annihilation of a reactionary village as "killing the masses," and of course they are quite happy to ignore the fact that the masses also participated in the annihilation, supported the Party directive to carry it out, and populated the militias and the EGP. By confusing who the masses are, they confuse revolutionary violence for reactionary violence.
Such revisionists, since they have not expelled their bourgeois mindset and bourgeois class stand, are still prone to getting weepy at the death tolls thrown about by "senderologists," bourgeois academics, and even sources that are in the direct employment of the Truth and Reconciliation Commission, a State plot most comparable to our COINTELPRO in the US. They study sources like Ivan Degregori, who was one of the top leaders of Truth and Reconciliation. He shared positions in Truth and Reconciliation with reactionary Peruvian Army generals like Luis Arias Graziani, ex-congress members like Beatriz Alva Hart and Rolando Ames, several catholic priests and bishops, and a conservative Protestant church leader, Lay Sun. This assortment of reactionaries were all partisan in the counterinsurgency against the revolution in service of the State, composed of Fujimori endorsers and people who supported Alan Garcia. Degregori, for his part, as an anthropologist, lends academic legitimacy to what amounts to a well-oiled anti-Communist slander campaign. In his book How Difficult It Is to Be God he presents the idea that the PCP, due to its activity in Lucanamarca in 1983, somehow alienated its peasant base with anti-people activity and was forced (almost a decade later) to run away from the countryside and into the city. No matter how false this is there are still conservatives hiding under the banner of Maoism in the US who will flock like moths to a flame to such reports. They can now fake a moral position to oppose Maoism while claiming to be Maoists themselves. The idea of Degregori being an objective analysist is outright hysterical. No amount of citations or academic laurels can erase his class interest and his role in the Truth and Reconciliation Commission. Even other bourgeois senderologists like Simon Strong, David Scott Palmer, et al. contradict this thesis and highlight the overwhelming evidence that the PCP only increased its popular support throughout the whole 80s and early 90s. Reading US military intelligence reports confirms this as well, as they feared a PCP victory and the collapse of the Peruvian State. As the PCP always insisted, the People's War in semifeudal countries advances from the countryside to surround the city. The advance upon Lima was not strategic retreat but a response to both subjective factors and objective conditions.
These liberal humanists will decry the violence of 1983 and in doing this they decry the PPW in Peru and denounce its leader, Chairman Gonzalo. They insist with no regard to historical materialism or the most accessible facts that this "massacre" alienated the peasant base and actually bolstered the number of death squad recruits, harming the revolution itself. This is nothing but a fabrication. The masses themselves understood this action, supported it, and themselves carried it out at the behest of the Party. This was not the activity of "outside agitators," shadowy Party agents from alien backgrounds. Much as with the rationale used by other liberals to dismiss the most rebellious activity of the US masses, the liberal mind makes fairytales and conjures ghosts. The Party is, in the liberal mind only, understood as divorced fully from the revolutionary masses, carrying out massacres nearly unprovoked based solely on a metaphysical bloodlust.
Let's look then at the facts: The People's War in Peru only grew stronger from 1983 into the 90s. When they began advancing upon Lima and other major cities, the peasant militia and people's committees grew year by year, and with them grew the EGP and the PCP itself. The revolution spread like wildfire, from the Andes to the jungles and into the slums of Lima, which began choking the city from the countryside. The prisons were organized, and whole areas stopped using Peruvian State currency and began using the currency of the PCP. Such places were the most developed and advanced base areas of modern times and far exceeded any current example. The New State was already functioning throughout large areas of the country.
As mentioned, military reports from the US government nervously anticipated the collapse of the Peruvian State, whose infrastructure had been consciously chipped away by the PCP and its mass base. The People's War bloomed, and this is impossible without broad mass support. The mass support was undeniable. An incident in 1983 did not and could not have cost them their mass base; this opportunist reading of history is basically illiterate in the theoretical and ideological sense. Revisionists and opportunists have always relied on historical revisionism (the revision of the historical record) to try to alter an understanding of the past, against historical materialism. Ideologically weak and underdeveloped comrades might at times be tempted to swallow such anti-Communist hogwash, but by embracing historical materialism one can see how their growth took place and their mass base developed and grew within the PPW. The People's Army carried out the majority of the mass work that was responsible for carrying out the mass line and winning over the majority of the Peruvian masses in the countryside and the slums. The whole world shook with the movements in Peru, and revolutionary Communism was once again back on the agenda.
"'Damn the words of traitors'; everything was won through revolutionary violence."
—Chairman Gonzalo
We must contend now with the question of violence from the Marxist perspective, which is divided into two main categories: revolutionary violence and reactionary violence. We had better learn the difference. One of the sharpest knives at the liberal butcher shop that is aimed at slaughtering and dismembering revolutions is the conflating of these two distinct types of violence—combining two into one. Hence they take part in reactionary and, most often, State-sanctioned violence.
State violence in this case is the arming of the ronderos, and the preparation of counterinsurgency on the village level, through the old ideological organs of colonialism, mainly the church. Reactionary violence was the stoning, dismemberment, and public display of the body of a beloved revolutionary and commander in the PCP. Reactionary violence is the historical revisionism of both the liberal critics squirming at a body count and the ideological counterinsurgency maneuvers of the Truth and Reconciliation Committee. Anti-Communism is reactionary violence.
There are those critics who of course always seek to pardon the white terror of a fascist State by suggesting that it was the revolution that provoked reaction. This argument pardons the State of its wrongdoings. It pardons the most backward of Peruvian society, who willingly joined the death squads. This is a major line of argument by the Truth and Reconciliation Commission against the People's War. They play on liberal false equivalence and liberal sentimentality. They only reluctantly and in hindsight blame Fujimori (in part) for his bloodlust, all while being of the same fabric as those who pardoned him legally while Comrade Gonzalo remains perhaps the most closely guarded political prisoner on earth.
So then we must come to understand revolutionary violence as the dialectical opposite of reactionary violence. Violence is anything but neutral. Revolutionary violence, which is always justified, is when the masses get so fed up with torture, exploitation, murder, and rape at the hands of the ronderos and the Party calls upon them like a mighty storm. No one, least of all the PCP, can deny the great and fearless masses their revenge. Those who are repressed by the constant threat of reactionary violence respond to the will of such a Party, and their rising cannot be struck down. For the PCP to denounce the annihilation of class enemies would be to betray their own people, their own cause—that is, the cause of the international proletariat. Lucanamarca, while being far from the standard of revolutionary violence, was nonetheless necessary. It was necessary to make it clear that this revolution was unlike any other that had ever shaken Peruvian society. Furthermore it accomplished its objective and decreased interest in joining death squads. Those who fake concern for the more than 80 annihilated by revolutionary forces do so only opportunistically, from a position of safety, where the white terror has not mutilated and maimed them; to them it is most certainly "terrible" and "going too far." For revolutionaries deeply in tune with the masses we can say "it's fine." We can understand that pain in the faces of the Black youth in the US, who are boiling over for revenge, and it is up to us to give them the type of Party that can make the call to action—their revenge will at times also contain excesses, and revolutionaries will support them, for we aim to make a revolution unlike any other.
There will always be bourgeois attacks on revolution that position themselves on the "left." It is necessary for the bourgeoisie to fake this position to safeguard against any potential strengthening of revolutionary sentiment among the people. The Peruvian State learned its lesson when they attempted to humiliate Comrade Gonzalo by placing him in his prisoner's uniform, in a cage like an animal on national television. Their aim was to destroy the myth of the man and humiliate him. It backfired and he was only humanized. They would not make this mistake again, and through forming the Truth and Reconciliation Commission they attempt to monsterize the revolution from a phony position of "human rights," all while siding with State abuses, abuses that are far more monstrous than the average imagination can conceive of.
The core of this article was laid out a long time ago, and many of the targeted audience have since rectified their view regarding the Peruvian People's War, but the lies of the senderologists and Truth and Reconciliation Commission are persistent gnawing parasites, always looking to fling mud at what was the most important revolution to take place since the Great Proletarian Cultural Revolution. Ironically, many of the attacks use the same old gambit: cite the excesses while blowing them out of proportion and frame them as par for the course for the revolution, all while comfortably keeping the terror of the bourgeoisie in a blind spot.
Today it is more important than ever to defend the People's War in Peru, to defend not only its legacy but its continuation. The great setbacks suffered with the arrest of Comrade Gonzalo and the decrease in military activity in 1999 are but bends in the road. Attacked on all sides, the PCP persists in reconstituting itself once more. People's War is ongoing, and at no time has the Peruvian proletariat been without its vanguard. It is ever pressing to preserve its legacy and to uphold it. While many have fallen off, revolutionaries persist. As historical materialists we can understand that no revolution has taken place without these bends in the road: the October Revolution had many such setbacks, and many of the initial armed struggles in China were defeated, only for the revolutionaries to persist until victory and once again face setback. What we cannot do is give into our cynicism and be short-sighted. Otherwise we forget the very basis of our history.